Search engine marketing is the process of advertising to prospects through search engines via paid ad placement. Currently, the three biggest search engine platforms are:
Each offer two types of website search listings:
Organic Listing
These are listings that cost businesses nothing. The placing of webpages is based on a number of factors, with the sole objective of ranking webpages based on the quality of content. The search engines control the positions of the results and you aren't able to directly affect your ranking position, however, there are steps you can take to improve the likelihood of a good placement. This is usually referred to as search engine optimization (SEO).
Paid Listing
These are webpages that show up on the first page of search engine results regardless of their quality. These are paid adverts that are labeled with the word ad or advert letting searchers know they are advertisements. Each paid advert has to meet the search engine's guidelines before it is approved. This is known as search engine marketing (SEM).
In the example below, when searching whey protein powder into Google, the number #1 and 2# search are SEM paid adverts. All other listings are organic: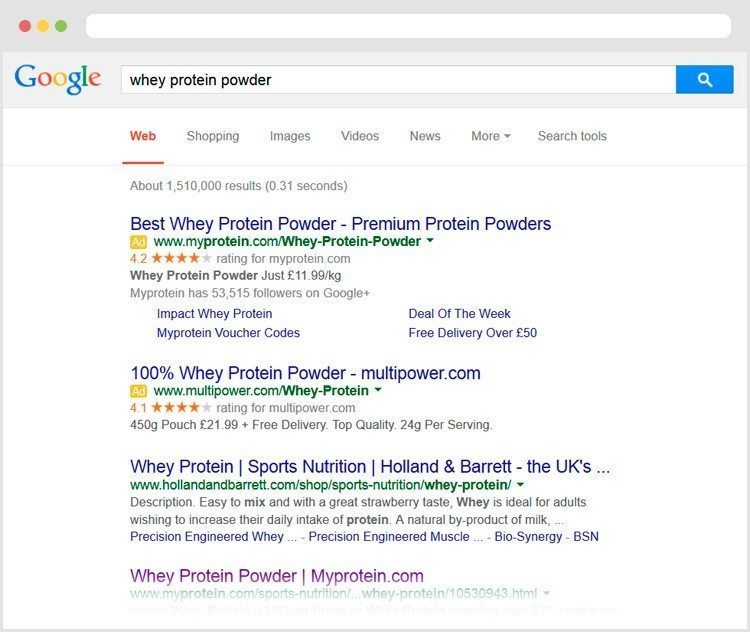 Businesses use SEM to place adverts on search engines for industry related keywords to drive traffic to their website. The businesses running these ads are paying to receive highly targeted prospects that they hope to convert into happy customers.
The Benefits of Using Search Engine Marketing
There are many reasons to use SEM as part of an inbound marketing strategy, they include:
Consistent Traffic
One of the hardest tasks a business with an online presence faces is driving targeted traffic. With so much content being produced, it can become increasingly difficult to drive targeted traffic organically.
There is no guarantee that a blog post or webpage will gain attention through SEO, as the power is in the hands of the search engine. SEM puts power in the advertisers' hands by immediately listing their webpage on top of all organic listings.
Increased Branding
Whether prospects click on paid ads or not, being listed as the number #1 spot on search engines is going to build a positive image and generate social proof. The more times a business is viewed on Google, Bing or Yahoo, the more reputation it will gain.
Keep in mind SEM marketing works on the pay per click model, if an advert is not clicked, the business isn't charged a single cent – free branding.
Geo-Targeting
With SEO, it's impossible to choose who views the search listing, that is left up to the search engine. Ad networks include features that allow businesses to pinpoint their adverts to be shown to targeted prospects only.
For example, it's possible to target males between the page of 25-30 in Seattle, who live within a 20km distance of a business's shop front.
Faster Results
It takes less than an hour to set up an SEM campaign. For time-based offers and promotions, SEO content can take weeks or even months before it's indexed in search engines.
This is one of the major benefits of SEM over SEO, the ability to bring results instantly.
SEM gets more Clicks than SEO
A great WordStream infographic revealed that 64% of SEM paid ads are clicked for high commercial keywords more than organic listings: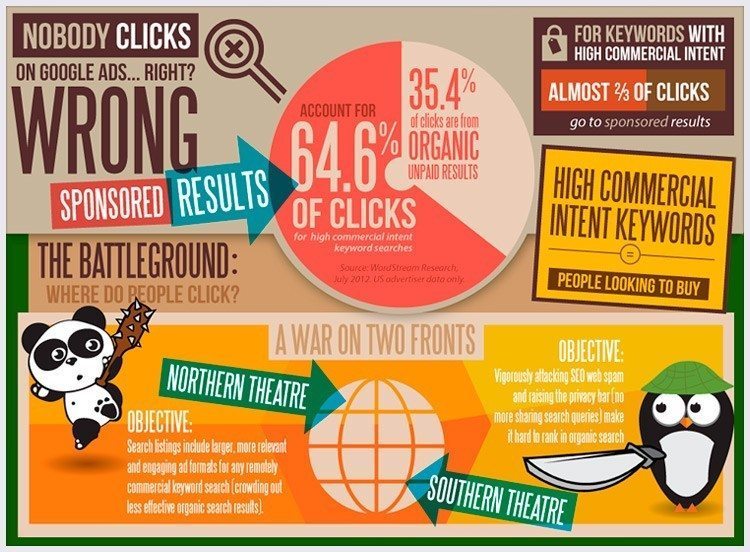 While not true for all keywords, SEM can provide a greater click-through rate than organic listings.
Rank Easily for Keywords
Businesses that are taking their first step in online marketing will find it extremely difficult to rank for their industry related keywords. Older businesses with an online presence will be hard to overtake initially. Since a large part of organic listings places a big weight on the age of content, it can take a long time to see a positive ROI with SEO.
SEM is the shortcut that lets businesses rank for keywords in the short-term while building a long-term SEO strategy.
Should a Business Focus on SEO or SEM?
They both have their advantages and businesses should leverage both.
SEO is organic and can be done for free, but unless a team member understands the best practices and outreach strategies, it can be beneficial to hire an external agency who can deliver faster results. It can take anywhere from 3 months to 3 years to generate organic traffic depending on SEO knowledge, experience and the industry targeted.
SEO works on a timeline, the more content ages and the more others share and link content, the more traffic a business will receive. This doesn't happen overnight and is a continual process of creating quality content and organic link building.
SEM focuses on driving traffic now, while businesses have to pay they do receive several benefits that cannot be matched by SEO. They are guaranteed to rank on the first page of searches, they can select who views their ads and how much they are willing to pay.
Once scaled correctly, an SEM campaign will continually bring a consistent flow of targeted prospects every day.
Summary
An SEM campaign doesn't require thousands of dollars to get going. Google, Bing, and Yahoo let individuals and businesses get started from as little as $1 per day. While the theory and fundamentals of SEM are easy to understand, executing SEM campaigns that provide a positive ROI is something many inexperienced businesses struggle with.
Copy, keyword research and audience targeting play important parts in whether a business sees a positive ROI or puts a huge hole in their marketing budget. To learn more about SEM and the benefits, read the success stories of dozens of businesses who used SEM to reach their marketing objectives.
You can get started by visiting Bing Ads, Google Ads, and Yahoo Ads today.