When you decide it's time to bring your business into the digital realm, there are a number of building blocks required to put together a comprehensive online profile for your business.
In today's article I'm going to cover four core building blocks your business needs, how they work, and best practice tips.
1. Digital Marketing Strategy
Digital marketing strategy is an umbrella term used to describe any type of promotion through the use of digital technologies. Typically this is done through the use of the Internet, using mediums such as email, content, social media, search engine optimization, and forms of paid advertising.
Digital marketing does cover certain non-Internet technologies such as SMS, MMS, and automatic telesales.
In a nutshell, digital marketing is all about how you use technology to reach your business's objectives.
"What makes a good digital marketing strategy?"
Best practice tips for implementing a digital marketing strategy include the following:
It all works together – A great digital marketing strategy is one that aids every other marketing channel you're using. For example, if your business is trying to increase its SEO presence, then by having active social media profiles you're able to push content out to more people, increasing the likelihood of generating backlinks and traffic, aiding your SEO efforts.
Another example is to write a blog post that ranks high in Google search and gets visitors to opt-in to your mailing list.
A well-thought-out digital marketing plan should focus on using several marketing mediums together to reach a single goal. This can also include offline marketing.
Departments working together – A digital marketing strategy has several moving parts. Larger enterprises may break down certain tasks into smaller teams or departments to make the management of their digital marketing easier.
Without the right management and culture in place, it doesn't take too long for departments to become splintered from the original goal and be in competition with other departments (sales vs. marketing, for example).
All departments should work together, sharing information and data to move the business in the right direction.
Diversity – Relying on a single marketing channel for leads and customers is a bad digital marketing strategy. At the very least, your business should aim to have at least three traffic mediums to drive business and not be reliant on one, as all it takes is a single Google update or Facebook algorithm change to halt your business.
2. Customer Experience
The lifeblood of every business is customers. Without them, there is no business. With more competition than ever before, providing a seamless customer experience has jumped to the top of the to-do list.
The customer experience is defined as the relationship between a customer and a business during the customer's lifetime. The customer experience starts from the moment the customer and business make contact, which could be through an online advert, a blog post, a social media update, or the customer walking into their store.
Every interaction between the business and the customer is within the customer experience definition. This includes emails you send out, how customers interact with your website, how they feel about your brand, interactions with your employees, and so forth.
Many believe that the customer experience will become more important than the price and product by 2020.
"How do you provide a great customer experience?"
There are many ways to provide a great customer experience, such as:
Understanding your customers – To offer the best customer experience, you have to understand what your customers want. If you offer a number of different products or services, then there's a good chance that each customer has a different need. Instead of lumping all customers into one email blast or advert copy, tailor every step of their buying journey to their needs to turn them into loyal customers.
Omni-channel buying – Consumers are now demanding a two-channel shopping experience. Many start their journey online seeking product reviews, price comparisons, and product information to help them narrow down the list of products or services they seek.
Once they have found the product(s) they are looking for, they want to physically view the item or even test it. Merging online and offline shopping is not the future, it's the now.
Letting consumers view your stock levels via your website, add to cart online and checkout and pay in-store, or book an appointment online are examples of a business offering a great customer experience.
Digital support – In 2016, nobody wants to wait 72 hours for a brand to reply to their email or spend 25 minutes in a telephone queue. Consumers prefer digital support channels, with online searches and live chat coming out on top.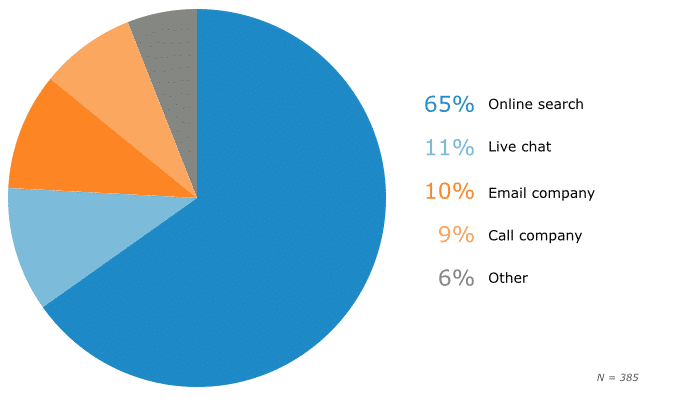 Source: Software Advice
Give customers the choice to contact you through a number of mediums based on their needs. Xbox use a dedicated Twitter account to answer all support related questions.
They have tweeted over 2.6 million times and have more than 87k followers.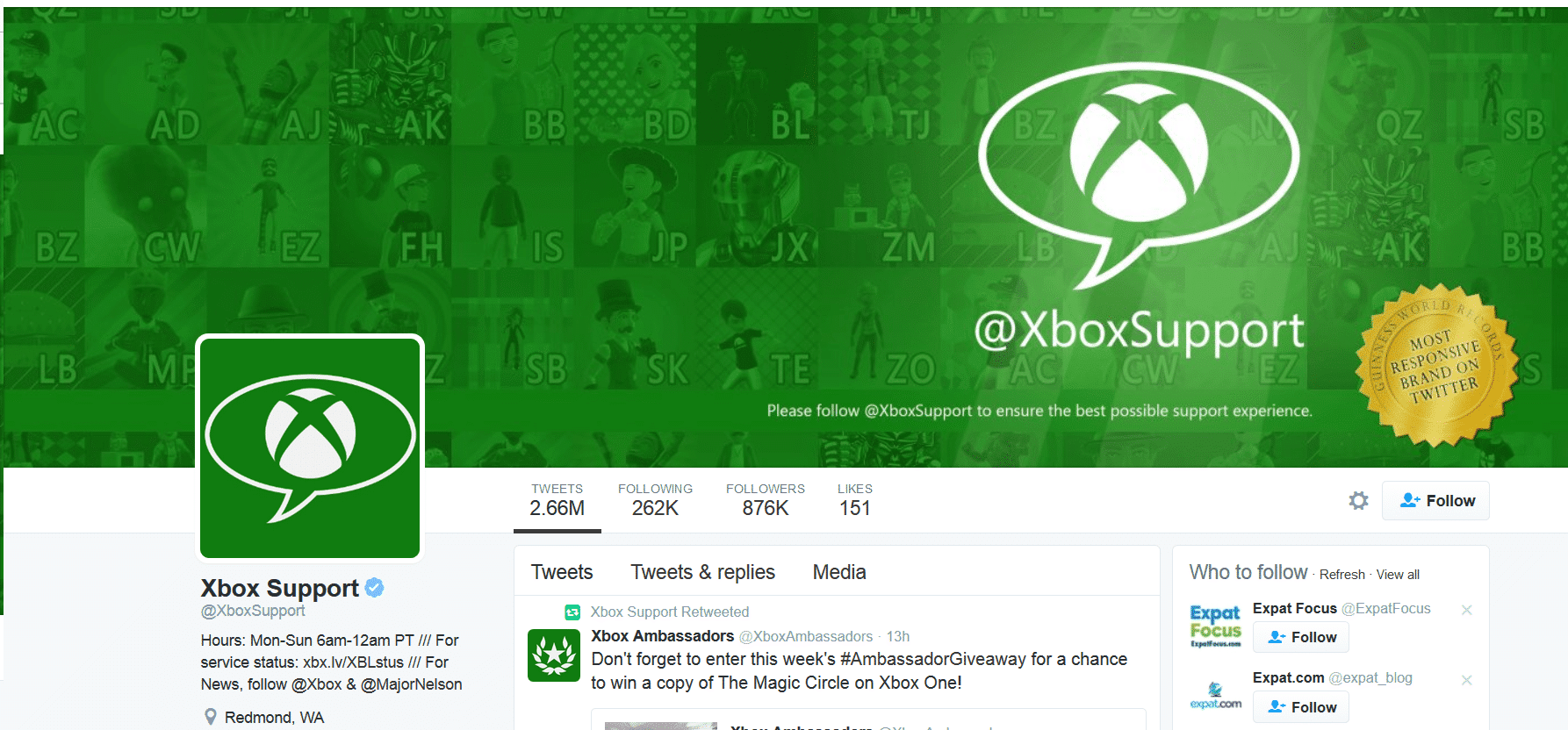 3. Mobile Website Design
Mobile website design is closely linked to the customer experience. Users who have a bad experience on your website are less likely to return, with 25% of traffic leaving a website if pages take longer than four seconds to load.
Source: Kissmetrics
With more than half of all Internet traffic using a mobile device, offering a mobile-friendly experience is a must. Google has even updated their search algorithm to rank unresponsive mobile sites lower in online searches.
"What makes a good mobile website design?"
To provide a great mobile website experience, your website has to be:
Responsive – This is a term used to describe a website that can adjust its layout automatically to the device it's being accessed on. For example, if a customer visits your website on a tablet device, all elements of your website should adjust accordingly to provide them with the best possible experience.
Pop-up free – Google announced in 2016 that it will start penalizing mobile websites that serve aggressive pop-ups to mobile users.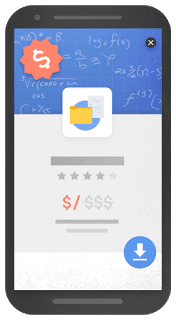 Source: Google Webmasters Central Blog
Pop-up ads have been voted the most hated web experience of all time, and they're even more annoying when you're browsing from a five-inch screen.
Never stop testing – Mobile devices and operating systems are being updated all the time. Always test your mobile website to ensure it works on all devices, all the time. Apple iOS, Android, and Windows are the most popular operating systems and should always be tested whenever you make a design change to your website.
All it takes is a widget to be out of place or a button to be too small for visitors to close your website tab and head somewhere else.
4. Social Media Strategy
Social media strategy is an important building block within your digital marketing strategy to help you generate awareness and build authority within your industry.
With the average American spending over 40 minutes per day on Facebook, and 7 out of 10 consumerspreferring a business with an active social media presence, social media is an integral building block to grow your business.
"What makes a good social media strategy?"
Follow the following best practices when creating your social media strategy:
Create a goal – The primary objective for businesses is to generate more customers, but not every platform is suited for selling. By raising awareness and building a reputable brand, the sales come organically and are typically of a higher quality (i.e. customers have a longer lifetime value).
Social media is a great way to:
generate brand awareness;
improve customer support;
build a community;
generate user-generated content; and
run promotions and contests.
Franchises use social media mainly for branding and reputation management, not for direct selling.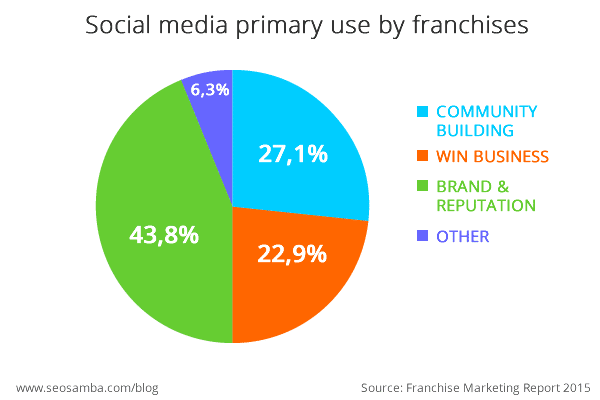 Source: Linkedin
It's not always about getting the sale!
Time – A common theme with brands jumping into social media for the first time is to join as many platforms as they can, only to stop using them a few weeks later.
You don't have to be on every single social media platform; in fact, if you create several accounts and they become inactive, it can actually damage your brand.
If you can only allocate five hours per week to your social media strategy, limit yourself to a total of two platforms. You can always join other platforms later on when you have more time to spend.
Content schedule – Don't post updates on the fly as they'll often appear fragmented and won't help you reach your goal. At the very minimum, create a 90[HG1] content schedule, posting an assortment of content (videos, articles, images, etc.) that you feel will best help achieve your goal.
After 30 days, review your progress and start to adjust the frequency of posts, content type, and hashtags to optimize your social media strategy. Social media platforms such as Facebook, Twitter, and Instagram all have internal analytic insights for your account.
Where are your building blocks?
Digital marketing is an ever-growing area of business. As new technologies are constantly being created, along with new ad networks and social media platforms, the number of options your business has to grow are endless.
Businesses sometimes leave a single department in charge of all their digital marketing, which is not always a smart choice. Each building block can take years to master and often will overload a team to failure.
For example, if you're investing thousands of dollars per month into social media marketing, that is a full-time job for a small time. If it is being overloaded with SEO, email marketing, and PPC, the end result can be less than desirable.